Thursday, August 30, 2007
Monday, August 27, 2007
Happy Monday to everyone. I am finishing up with some things for work and thought I would take the time to do a race report. Prompt for once, I know! So, sorry it is so long but... enjoy.

We headed out to Lee's Summit, MO on Saturday morning. We did end up taking both cars. We had one bike that fit on the rear rack (his) and one bike that was too stinkin' small (mine). Since my bike has to ride in the backseat, the dogs would have had nowhere to sit and so two cars it was. (Time for a larger car, huh? And we don't even have any kids!)

So off we went, great trip out, to bed early and up at 5 to head to the race. Took the the Neon to the lake and got our gear out and set up in transition.



Mr KT getting his gear together before the race.



I was excited that Mr KT was able to come and do the duathlon while I raced short course. Anyway, off the long course athletes went in their waves.



Warm up on the beach




Long course athletes getting ready to go


Next the duathlete racers set out and finally it was time for the Sprint race to start. Mr KT said that he saw one of the Olympics distance racers try and jump on their bike from the back, like cowboys jump on horses in the movies, only not so successfully. The first time he shorted it and got hung up on his carbon fiber bottle cages, the second time he landed on top of the cages and ripped them off the bike spilling his drink everywhere, the third time he got tangled up and dumped his bike. Mr KT said that he was cussing but he just kept trying. 3 minutes could easily have been saved by throwing a leg over like a mere mortal but apparently he was trying to impress someone.

I was racing with a pretty good head cold, but it wasn't at all in my chest so I figured I was safe. I also didn't dope up on the acetaminophen until 3 hours after the race, so all was well. I think the only part of the race it may have affected was my swim. I felt like I couldn't get a breath and I am sure that the lake water wasn't helping. It was a 500 m swim and I only got kicked once. My goggles filled up with water and I got a breath of water but after I recovered from that I was good to go. I sort of felt like I was working hard and not really going anywhere but it didn't really matter as it was only 500 m.
Swim time: 9:52 (but about 45 sec was running up the beach) which makes my pace 1:40/100 yds

T1: Uneventful although the racks were super close together. I had to hold my bike over my head and jump over people to get in and out. Ran with cycling shoes through transition. Hopped on. Rode away.
T1 time: 1:38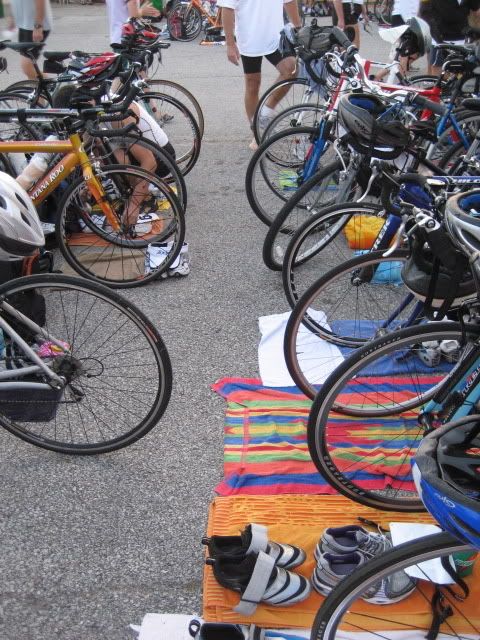 Bike: One 11.75 mile loop. Hilly and great. Very little wind which was nice. I drank 1/2 a bottle of Gatorade. There was a tight S curve about 1/2 way through where they were telling everyone to slow down. Not only was it on a slight decline but the pavement was a mess. It looked like someone had poured new blacktop over old asphalt and the new stuff had come up in chucks. Anyway, it was manageable if you followed the recommendation from the volunteers and race officials to slow down. We were also warned about it before each wave started. Apparently, a few people thought that the race director was joking about that little snafu in the course. There was a gal down in the bushes and brush when I went by with about 4 other athletes around her. I rode on ahead to make sure that one of the volunteers with a radio knew that someone was down, which they did. The next little obstacle was a one lane bridge that we were required to dismount and run our bikes across. I actually thought it was pretty fun but there were about 10 people who got DQ'd for riding the bridge. It just so happened that at the time that I got to the bridge the firetruck for the wrecked rider was trying to get across. A whole mess of us were stopped at the bridge waiting for the firetruck which eventually decided that they weren't going to be able to drive it. We lost a couple of minutes but you know, it is just a game, a sport. The lady next to me was cussing out the volunteer, the firetruck, whatever she could think of. I finally turned to her and said something along the lines of, "what is one or two minutes in our race if that other rider is seriously hurt? It is just for fun." She growled at me, but stopped complaining. I smoked her after we were allowed to cross. Then about 1/2 mile up the road we were to turn left but I was stopped again as the ambulance driver tried to execute a three point turn. Three points turned into four, turned into five and finally I was given the go-ahead. I wasn't frustrated, if I was back there with a broken collar bone, tons of road rash and a week full of poison ivy ahead I would want some help ASAP. I had to climb a pretty good hill from a standstill because of this but I figure it only made me stronger. The last part of the bike had a monster downhill which was super fun except since I couldn't breathe out of my nose I ended up drooling all over my cheek because of the wind and my open mouth. Sexy, I know, try to contain yourselves guys.
Bike time: 41:09 Avg: 17.8. This avg was from my computer, mind that I had to stop completely twice.

T2: I undid the straps on my bike shoes coming in because I usually slide them off and run in barefoot but for some reason I unclipped so I had to run thru transition with my cycling shoes flopping around on my feet. Stupid. Anywho, same old, same old except this time I had to blow my nose. There goes :20. I pulled my shoes on, grabbed my belt and was gone. No socks on a race this short.
T2 time: 1:30

Run: My husband was waiting for me as I came out of the transition area. He had long since finished his duathlon and was waiting to do some cheering. I felt great off the bike. My legs weren't tired at all and I was ready to go. Mr KT ran with me for most of the run and don't worry, I couldn't pace off him if I wanted to, he stuck mostly behind me and off to the side. It was a nice run with lots of shade.
Run time: 26:49. Pace: 8:37.


Overall time: 1:20:54
Age group: 7/25 although I got a third place medal because 4 of the top 5 overall females were in my age-group. Tough crowd!
Overall female: 14/139

My husband was a rock star!
Run #1: 1.4 miles - 8:33 avg 6:07
T1: 0:52
Bike: 11.75 miles - 35:37 avg 19.8
T2: 1:02
Run #2: 3 miles - 21:14 avg 7:05
Overall time: 1:07:16
Overall place: 9/57
Age Group: 3/7 although got a 2nd place medal due to overall placing of the 1st place finisher


I am really glad that I choose to do this race after Big Creek went to heck.

Now for the amusing part of the story. Some of you may remember that as of last week I was not on a roll with the family cars. My Neon had to have a new alternator, battery and 4 new tires. Then, while mine was in the shop I smashed into the back of someone while driving my husband's. Well, here is strike three. I hope he keeps me around anyway. Hopefully I have some other good qualities.

When we were getting ready to leave MO, Mr KT couldn't find his keys. This is not unusual so we looked everywhere. Come to find out, he had thrown them in a plastic cup that was in the cup holder of the Neon when we left for the race. When we stopped for gas, I had inadvertently filled up the cup with trash and tissues and things and thrown it out. Needless to say, he was M.A.D. He went back to the gas station (20 or so miles) and dug through all the trash. I offered to go but I don't think he could stand to have me in the car with him at that point. He never found them. He said he found the cup but no keys. So we aren't positive they were in there but it is pretty likely. Anyway, he drove his mom's car home and I drove the Neon home. This morning he had to turn back around and drive the 3.5 hours back with the spare set of keys to switch out cars and then come home. I felt horrible but it was an accident, I swear! All is well that ends well and I think it would be in my best interest to go make him a REALLY good dinner tonight right now!

Have a nice week.
Friday, August 24, 2007
Thursday, August 23, 2007
Saturday, August 18, 2007
Wednesday, August 15, 2007
Monday, August 13, 2007
Saturday, August 11, 2007
Thursday, August 9, 2007
Tuesday, August 7, 2007
Sunday, August 5, 2007
Wednesday, August 1, 2007