#1.) So, I am still not back to running. It still hurts to walk. I am still icing 4-6 times per day with either ultrasound or iontophoresis 1x/day. I took an easy week. A couple of swim workouts, some weights, that was about it. I am going to ride my bike tomorrow and swim Monday. I am so incredibly tired of not running and it has been one week. I miss it like crazy. One good thing that has come of this is that I realize how much I depend on running to keep my brain together. It starts off my day in a good way like nothing else can. So, healthy thoughts, healthy food, and continued rest.

One weird thing that is now happening with my foot is that when I point my toes, there is a "creak". I know it sounds weird but if you put your hand at the front of my heel on the bottom of my foot you can seriously feel like a rubber band is stretching. It is the creaky knees feeling but not, I repeat, NOT, at a joint. I first thought it was fluid built up moving around and maybe it is. It doesn't hurt any extra when I do it but it sure does feel weird. That has to stop.

#2.)On a whole different note, Mr KT bought me a new running hat and running gloves for the cold weather. We are thinking positive on the running. =0) They are Nike brand and the coolest thing is the hat has a hole for a ponytail! Now some of you may not see just how cool this really is but as a girl with long, thick hair, I am stoked! No more hat bouncing off because the ponytail is bouncing, no more hair down to wear a hat.


The running gloves are sweet too, they have a key pocket on the palm which rocks. I can't wait to try them out. I am ready for the cold, bring it on!



#3.) Mr KT ponied up and went to Master's swim with me on Friday. Unfortunately, I have no photos documenting this but maybe my coach will vouch for him. It was just he and I, as Friday's aren't a very popular night at the pool. I swam in one lane and he swam in another. I did my workout while the coach worked on technique with him. Seemed to go well. I am not sure how many yards he got in but he had no cramping during the entire session. Our coach said that he could make Mr KT faster than me in one month which is not cool. I know it isn't a competition but it is all I have left. He is faster and stronger than me in EVERY other way. Damn, I hate being a girl sometimes.

#4. I did finally get some cycling gloves as well. The rides are getting longer and sometimes if I spend too much time out of the aerobars I have sore hands by the time I get home. I won't wear them all the time but on those longer rides they will come in handy.



#5. This is totally unrelated to triathlon so feel free to skip this part if that is why you are reading. Last weekend I walked into our bedroom to find this... Believe it or not, that bed was made when I last checked. They were so darn cute and naughty that I had to catch it with the camera.



Brick...





Kona...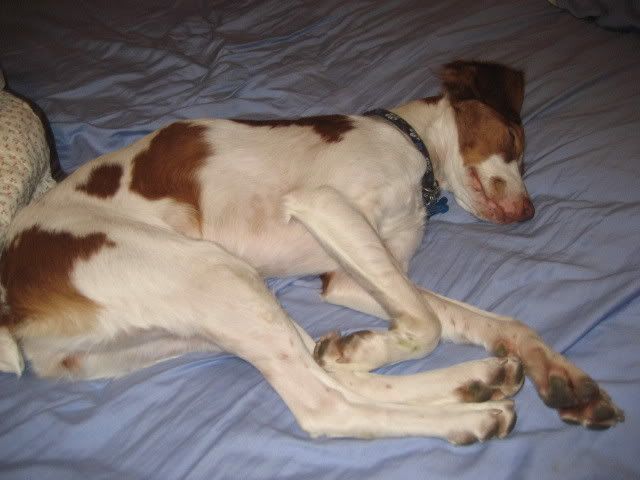 Later...