Alright y'all. It is Wednesday the 6th, 3 days after my first Olympic distance race. About time for a race report. Just a preview... I didn't drown, crash, or throw up. All good things.

Flint Hills Triathlon Race Report 2007

I left Omaha and drove to Lincoln to pick up my husband on Saturday. We drove from Lincoln to almost Manhattan (Tuttle Creek State Park). It was a quick drive with loverly Nebraska/Kansas Hwy scenery. I love that sort of thing. We eventually found the lake and the camp ground (just a little lost). We paid for our campsite, stood in line at check in and packet pickup, and drove over to find ourselves a place to spend the night. I set up our tent with a little help while Patrick built the fire to cook our dinner. The weather was absolutely beautiful. Cool and sunny, a slight breeze, about 65-70 degrees. It was so nice to just be outside. We had veggie foil dinners with cheese for dinner. We were hungry and they tasted great. I roasted marshmallows (about 5) while Patrick fiddled around with the lantern that wasn't working. We played Frisbee for a while and I learned how to play Texas Hold Em. I would definitely lose my money if I were playing for real. It was a great evening. We went to bed about 10:15 pm. The park was packed with campers, many of them were racing but there were quite a few families who were not. I don't think they bargained for so much Lycra, neoprene, and carbon fiber in their escapades to the great outdoors. It was noisy but I am a sound sleeper and had no trouble. I was up at 5:40 to eat an open face PB and honey sandwich. I got the rest of my gear ready to go and Patrick dropped me off by the transition area. I got body marked and set up up my transition area. The racks were packed as always but I found a decent spot. People are so defensive about their areas, another gal wanted in about 15 min later and the guys around me were not happy about it at all. Unfortunately, when they plan for 8 bikes per rack that is what needs to be there or not everyone will have a space. Duh.

I pulled on my wet suit which I borrowed from a friend at the last minute. The weather in Kansas the two weeks before had been crazy rainy and everything was flooded. The original transition area was underwater and the lake was an extra 25 feet deep according to the State Park website. Yipes. The race director had done a nice job flip flopping things as needed and the new transition area was on the grass. The wet suit I borrowed was a QR sleeveless men's XS and it was so awesome.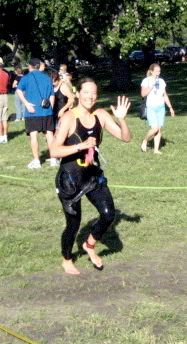 Here is where I admit a humongous race no-no. "My name is Katie and I tried something new at a race." I had never swam in a wet suit, never been in the water with one on, never even tugged one over my hips. (I did practice putting it on and taking it off a couple of times the day before.) I have to say, it was great. I loved how I felt in the water, I loved how I wasn't freezing my behind off, I loved how I was faster with the same amount of exertion. I am sold. That is on my tri wish list. The swim start was every three seconds. I was number 133 and grossly underestimated my swim time because I ended up swimming over and around people for the rest of the swim. I managed to swallow a bunch of water at one point on the first 750 m lap when somebody collided with me but it was not big deal once I could breathe again. Swim time:27:32 I am sure that my next open water swim will be faster. This was a bit slow for me.


T1: I had never had to deal with a wetsuit in transition but it went fairly smoothly. T1 time: 2:35 I need a different headband that I don't have to tie, that wasted about 30 sec I think.

Bike: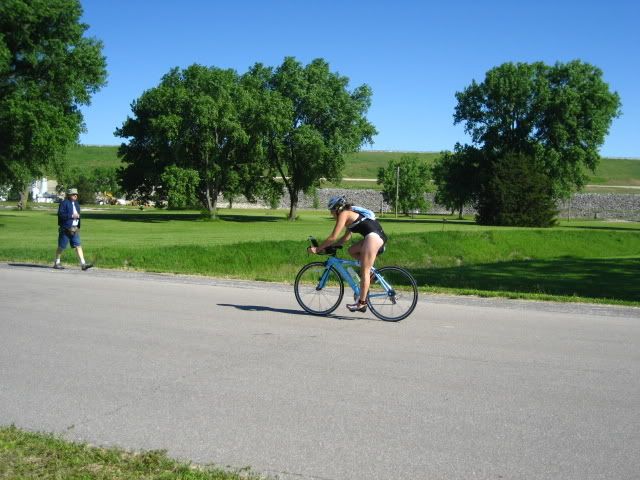 The 40K bike was up and down rolling hills with a 25-30 mph headwind for the first 13 miles. At the turn around I flew. I rode on my brand new Trek EX7 WSD and it was so nice to be in the aero position comfortably. At about mile 16 the paramedics were putting someone on a stretcher. The speculation at the end of the race was that a gust of wind caught the rider and they over corrected. Scary. My plan was to go fairly easy up the hills since I don't train many of them and to kick it into gear on the flats and downs. I didn't want to spike my HR or go into O2 deprivation if possible. My high speed was 34 mph! I averaged 17 mph or so which was pretty good for me with the wind and the hills.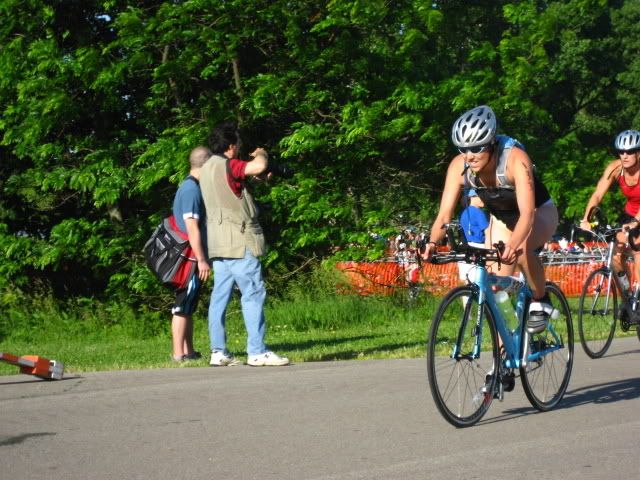 I managed to get down half a Snickers Marathon bar and about 12 oz of Gatorade. I also drank maybe 15-18 oz of water on the bike. Notice nutrition is where I fall apart. Bike time:1:28:51

T2: T2 was faster. I took my shoes off while I was riding and them ran my bike in barefoot. No problem. Grabbed my race number and was off. T2 time: 1:24

Run: The run about did me in. It was two loops of the short course 5K. Did I mention that I hate doing laps.


I felt so slow and sluggish and was feeling like I was starting to get a headache. I ended up having to walk for 30 sec 2 times which I hated but my legs had had it. I kept thinking, how can this be, I am well trained for this. The last two miles my stomach was begging for calories. I was so hungry! I got to the finish line and Patrick handed me a granola bar at which point he almost lost his hand. I ate a Smooshed Fruit and a piece of pizza and drank 1.5 bottles of water. I was feeling really good at this point. Run time: 56:05 about a 9 min mile (SO DARN SLOW!!!).

Overall time: 2:56:28
5/7 in my age group - suck
27/35 for female - Yikes

I felt good until we got almost back to Lincoln to get Patrick's car. I drank half a bottle of OJ and had a Sonic Slush. By the time we were in Omaha I wasn't feeling so hot. I ended up laying of the couch with a horrible headache, nauseous, unable to eat anything. Patrick got home with dinner and I told him I loved to train but I didn't want to race anymore. By this point I was in tears. He managed to remind me that I do love to race, just not to feel yucky afterward. Good point.

A friend and I have since taken a look at my nutrition during the race. As he put it, "I can't believe you are even still alive." =0) I took in 150 calories on the bike and I ate one piece of bread with PB and honey for breakfast. I didn't even recoup the cals burned from my swim let alone get anything in place to run on. So... I am in the process of revamping this race day issue. I can't do anything with caffeine or it's compounds so that narrows the choices but I will find something. 150 calories for a 3 hour race will not cut it. (Who knew that Gatorade had so few calories. I mean, really.) The new things I am looking to try are Hammer Gel (all natural), Accelerade, Cliff Shot Blocks, and anything else anyone suggests.

I am very glad to have finished but I am extremely disappointed with my times and places. So I am bound and determined to fix some things.

#1 Nutrition
#2 T1 time
#3 Run time

Time to get training. See you out there.

Oh yeah, I did manage to somehow qualify to go to USAT Age Group Nationals in Portland at the end of the month. Not sure if I can make it or not.